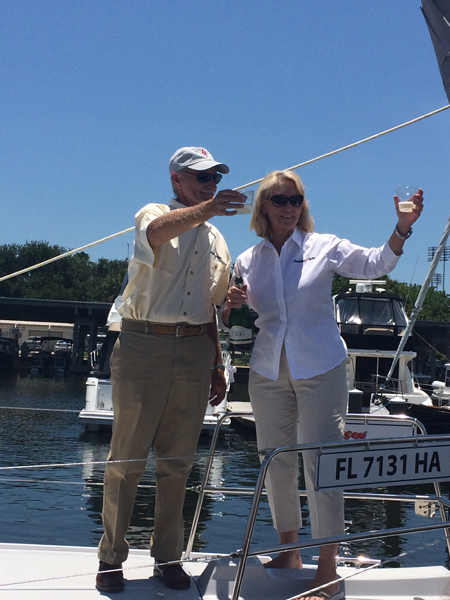 Gerry Douglas and Sharon Day christened the all new Catalina 425 at the St Petersburg Yacht Club on May 24th.  Following a lunch time meeting with the attending dealers, Sharon had the honor of the champagne ceremony on the dock.  Gerry went over the design features and we all went for a sail. The self -tacking jib made it easy and we flew the A-Sail from the new fixed bow sprit too!
We are excited to have the 425 model available, adding a new look , a new deck design and sail handling layout, affording easy short- handed sailing.  The long inboard genoa tracks will accommodate any size headsail and the bow sprit will accommodate an asymmetrical spinnaker or code zero type reaching sails.
The new helm steering  pods, look great and open up the feeling of the already large cockpit. The starboard cockpit settee converts to a double lounge, the coamings are deep and comfortable. The main & jib sheets plus the jib furling line are cleverly hidden in the coaming as they lead all the way aft to the helm position.  These lines can also be controlled at the companionway as well.
The all new Catalina 425, (43'6" Overall,  39'1" Waterline, 63'6" Mast Height) (lead keel 40% ballast ratio) will offer a high level of predictable, comfortable, manageable, performance cruising for a crew of two or more!  The first production models are on order now, some are pre-sold, others are for dealer display.
Sail Place Inc. has our order in, we will keep you informed as we anticipate the arrival.
Catalina 425 New Features & Available Options
Selden ppar w/swept spreaders and forward lower shrouds for mast tune control
Second generation (lead not cast iron) Catalina wing keel design
Self-tacking Jib, plus long inboard genoa track for overlapping headsails
Mainsheet and Jib sheet leads and jib furling line lead aft to helmsman, available electric winch
New style wheel pods from Edson
Life raft locker in stern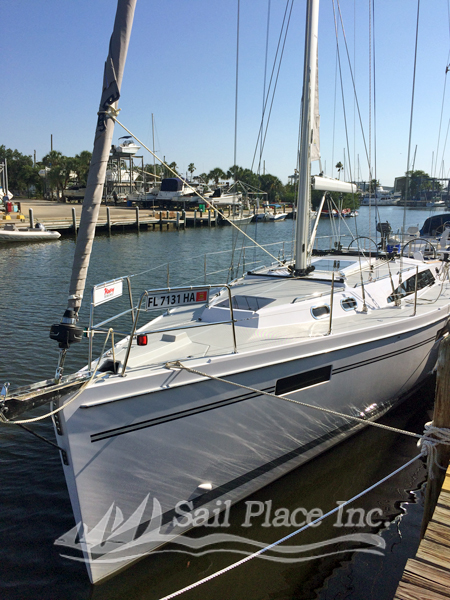 Starboard cockpit settee folds out to offer a double sunning / sleeping lounge in cockpit
Variable color choices for nighttime cockpit lighting
Refrigerated bin in center of cockpit table
Bow Sprit with Integrated anchor chocks and attachment for tack of A-sail
Really large anchor locker with watertight collision bulkhead
Anchor windlass control available at helm position
Stern rail top bar extends all the way to the life line boarding gate
Companionway hatch boards disappear into a recessed compartment
All deck lines can cascade into subfloor line box for tidy storage
Gentle slope to the companionway steps
Separate 12v wine cooler
Quiet flush electric heads
New second generation inner spring mattresses in owner and guest cabins
Stainless steel force ten stove with oven
LED lighting with dimmer switches, touch operable reading lights
Full Access to machinery via the full length portside access panels in the flex cabin
New common rail Yanmar diesel
Two diesel fuel tanks