We'd like you to meet the Trelfa family – Brett, Melissa, Ella and Jack.
They took delivery of their new Beneteau 45, "Fidèles" on June 30, logging about 28 days of sailing shortly after. Below is their story and a glimpse at how they're enjoying 'Sailing as a Lifestyle'…as a family.
[hr height="30″ style="default" line="default" themecolor="1″]
We both knew that sailing was in our future, we just didn't know to what extent.
Where do you live?
Louisville, KY
Where does your new Beneteau 45 live?
Muskegon, MI
Where do you primarily sail your new Beneteau 45?
Lake Michigan, & Lake Huron
Any long terms cruising plans?
Most of our sailing is spent upon the Great Lakes between May-Oct. We prefer sailing North, visiting the Islands (S. Manitou, Beaver, Mackinac, etc). My parents live in Alpena, so we have journeyed to Thunder Bay on Lake Huron.
Our longest passage this Summer was 900 miles.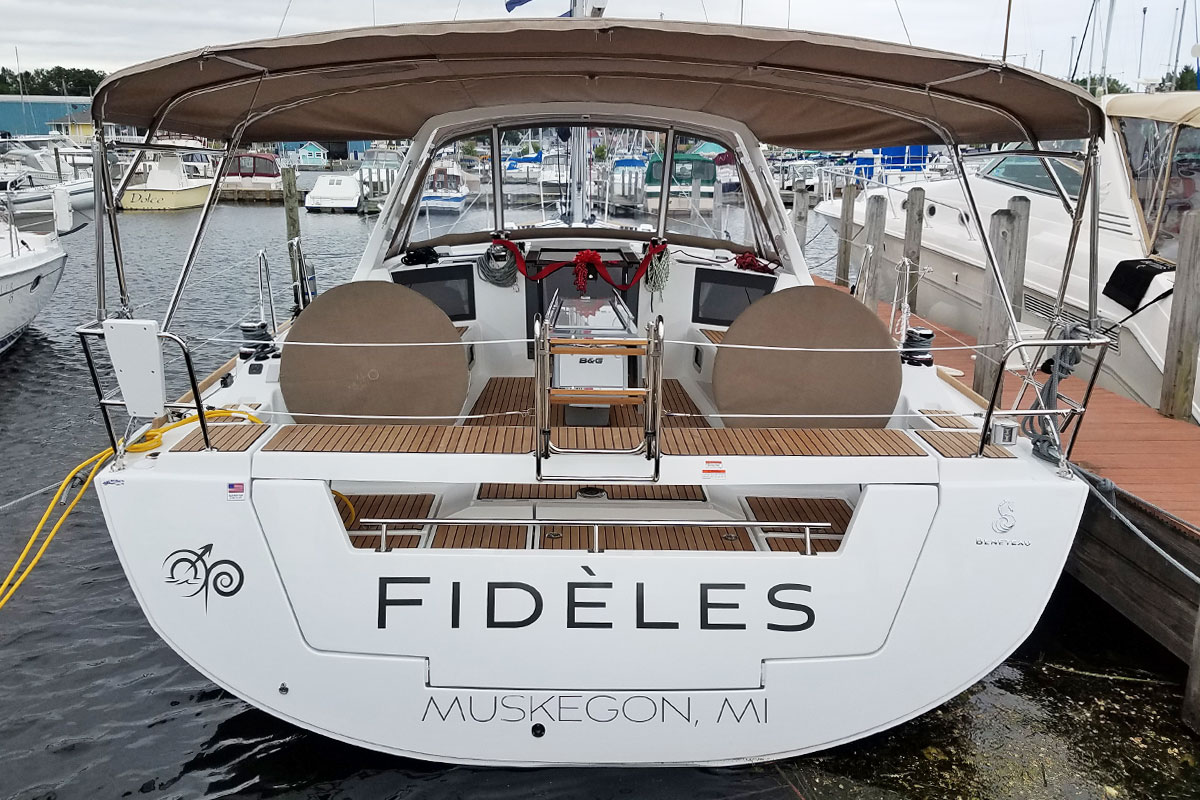 Can you expand a bit on your sailing experience? How long have you sailed? When / where did you learn?
I grew up in Alpena Michigan and was fortunate to have parents and grandparents that instilled into me the love of boating. I credit my grandfather (Roy Ludlow) with planting the dream of sailing in my mind. He used to talk about one day sailing around the world. He never quite fulfilled the dream of sailing around the world. But he did travel abroad with my Grandmother (Dolores) either RVing or flying.
Naturally, I found myself on boats of all shapes and sizes. As a child, I was mostly involved with powerboats – skiing or fishing. It was a blast to operate them, even those stubborn to start outboards. In my teens, I gained some sailing experience on windsurfers, Hobie cats, and lasers. I would spend summer months with my uncle working for him by day, and sailing on his windsurfer or Hobie by night.
As an adult I shared boating with my wife and children. Like many families we graduated through several boats – pontoon, runabout, Mastercraft wake boat. As a younger adult, I wasn't quite ready for the slower speeds of sailboats, but the seed my grandfather planted was continuing to germinate.
For my tenth anniversary, Melissa and I visited Hawaii. One of our most memorable experiences came from an evening of sailing on upon a 40 foot catamaran outside of Honolulu. Melissa arranged for the chartered dinner cruise which took us to Diamond Head, Oahu. Despite being organized for 3 couples, we ended being alone with the captain, for a truly special evening. That evening the seed my grandfather had planted sprouted into a seedling. We both knew that sailing was in our future, we just didn't know to what extent.
At that time, I was learning through experience. For example, "what's the point of reefing"?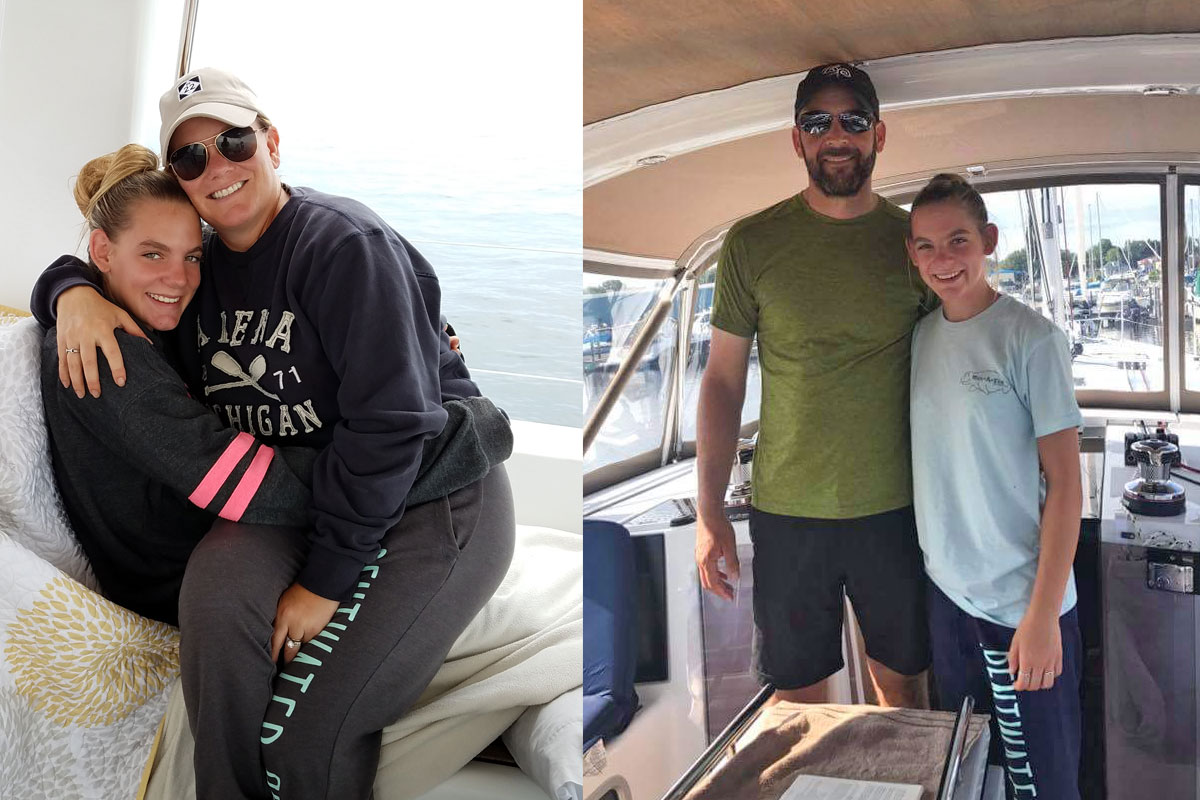 What other sailboats (if any) have you owned?
A year after visiting Hawaii, we travelled to Ft. Myers to visit my parents. We were looking for fun family activity, so we chartered a sail with Magic Wind Adventure Sailing. It was inspiring to hear from Captain Dan how he shed his Engineering job to be a charter sailor. His enthusiasm was infectious, prompting us to ask all kinds of questions about how to get into sailing ourselves. Not surprisingly, he suggested buying a sailboat and possibly get some lessons.
Within a year, Melissa and I purchased our first sailboat, a Catalina 30 named Trapeze. Trapeze was located in Muskegon and her former owner Tom suggested we stay in Muskegon for one summer, since the mooring ball at Hartshorn Marina was already paid for. Tom also pointed out that Muskegon Lake is often very useable when Lake Michigan is fogged over. Heeding his advice, we stayed in Muskegon. In that first season, we sailed approximately 50 days – 13 of which were fog days on Lake Michigan. Early on we stayed close to home – so mostly day-sails with an occasional overnight on the anchor. During those early days, Trapeze was our instructor. Of course I understood navigation rules and expectations for safety equipment, but I did not really understand that much about sailing a 30ft vessel. At that time, I was learning through experience. For example, "what's the point of reefing"? Well I quickly learned that an overpowered boat isn't a lot of fun to sail and ultimately be unsafe or cause unnecessary damage to rigging and sails. The first time we reefed everything was much easier to manage and we didn't really sacrifice speed. So Trapeze had effectively taught the reefing lesson among many other lessons.
When did you first start considering buying a new boat?
As I gained more experience, I made a commitment to increase my knowledge and skills. I wanted to be as safe a sailor as possible; after all, it is more fun when everyone returns home safely and the boat is undamaged.
After several weeks of theory training online with www.Nauticed.org, followed with obtaining my RYA (Royal Yacting Association) Dayskipper endorsement and ICC  (International Certificate of Competency),  I developed an interest in a finding a larger sailboat. I'm nearly 6'-4" and my two children (now 11 and 14) are growing. The C30 was just too small for our us.
We were sold – this was the boat for us.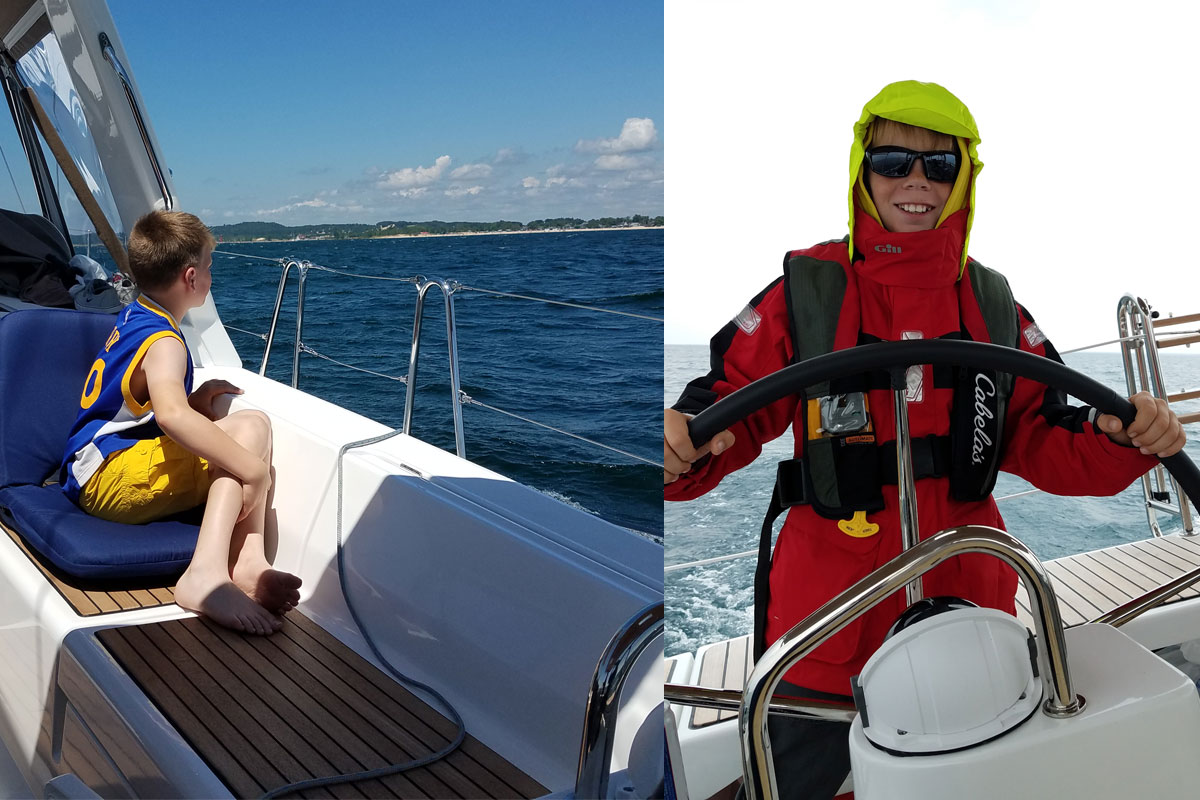 When did you first see the 45?
I did the usual thing, visiting Craigslist, Yachting websites, brokerage sites, etc. On a whim, I decided to attend the 2016 Chicago boat show with a friend. That's where I met Sailplace's Tim Fulbright and saw the Beneteau 45.
What was it initially that you liked about the 45?
The Beneteau Oceanis 45 won us over with its design features such as the spacious cockpit area and folding transom. I liked the helm positions and electronic arrangements. The headroom down below was ideal and the 3 cabin layout perfectly suited us.
Can you expand on your experience working with SailPlace?
After the boat show both Mike and Tim followed-up with me. I appreciated that neither was pushy and that they made every effort to answer my questions. Eventually I told them I was leaning toward the OC 45 and wondered if a test sail could be arranged. So August 2016, Mike arranged a test sail on Sante located in Chicago. The winds were somewhat light that day, but the OC 45 really showed its responsiveness and ease of handling. We were sold – this was the boat for us. The spacious teak cockpit, in-mast furling main, motorized winches, folding transom, arch (to get mainsheet out of the way of the cockpit area) were all very much positives in my mind – a cruisers delight. The arch also has built in lights for evening illumination, creating a very unique experience.
We recognized that purchasing a new boat (especially a new one) requires a strong financial commitment. It took some time to make a commitment. Fast forward another 6 months to the next Chicago Boat Show, we met up with Sail Place. No other boat compelled me as much as the OC45. The idea of getting what we wanted in a new warranted vessel strongly appealed to me. So we decided to take the plunge January 2017.
Once we made our decision, Mike put us in the good hands of Dave Fulbright with SailPlace Inc. He and Mike partnered to ease us through the closing process, the commissioning, the christening, and our first sail. Throughout the transaction the communication with Dave was excellent. Dave also connected us with Bob Patterson at Neil Pryde Sails to build our Asymmetric Spinnaker and Code 0; once delivered he rigged and tested the sails with us. Dave also put us in touch with an extremely talented graphics man – Paul Lytle – Compass Design. Likewise Dave connected us to a canvas professional to build our Dodger and Bimini. His work was spectacular, probably the best in the business.
While the boat was being built, we traveled to Marion SC to take a tour. The tour really reinforced the steps that Beneteau takes to produce a consistent and high quality product. The attention to detail from the workers was extremely high as was their care for keep the boat looking their best as they progress down the line. All boats were tank tested for leaks and thoroughly inspected to ensure delivery would be smooth.
In our case, Hull #171 was delivered to us in perfect condition. We christened her Fidèles (French word meaning "faithful").
We logged just over 900 nautical miles over 14 days.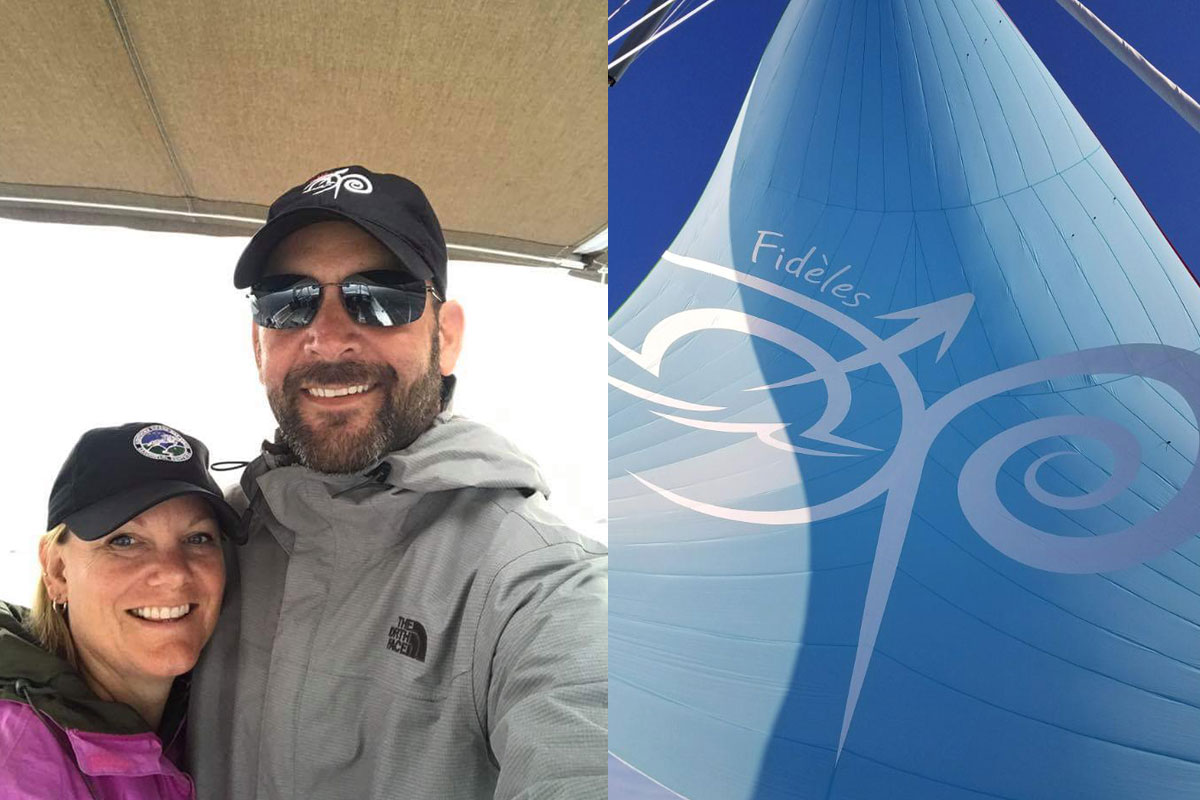 How are you enjoying your new Beneteau since your purchase?
We took delivery of Fidèles Jun 30, logging about 28 days of sailing shortly after. Our longest passage took us to Thunder Bay, Lake Huron and back to Muskegon – we logged just over 900 nautical miles over 14 days. Seven of those days were 100 mile passages with others being more comfortable at 60 nautical miles. We enjoyed using all of our sails, which included our Code 0 and Asymmetric. We learned that once the furling Code 0 is up, the asymmetric won't be used, because both sails rely on the same spinnaker halyard. All of the sails were impressive, but the Code 0 was a real delight. We achieved our fastest speeds and smoothest ride with the Code 0 flying, seeing as high as 10 knots over ground, with a passage averaging sustained speed of approximately 8 knots for over 1.5 hours. All quite comfortable and secure.
As we journeyed we anchored at many destinations. The Delta anchor with 5:1 or more scope never lost hold, even through a couple of very windy nights. We most enjoyed anchoring off of Mackinac Island near arch rock. There we inflated our FRIB and went ashore; the kids loved driving the FRIB and marveled at how clear the water appeared. Maneuvers under power were surprisingly easy. This gave me confidence to enter tight spaces in Marinas. Most often docked "stern to" to keep the power connections within reach of the power pole. I usually operated the boat, while Melissa handled the spring line. The bow thrusters do make tight turns easier, but I don't see them as absolutely necessary as the boat moves with ease and control under power. I would say there is no prop-walk, certainly none that we could detect.
The electrical systems seemed fairly easy on the batteries. We found a need to run the generator perhaps once a day to keep batteries up for the instruments. Solar panels would certainly help minimize generator run time which runs pretty quiet. During the 28 days, we topped off the diesel once – using approximately 12 gallons total.
The folding transom as a swim platform was a big hit with all who used the boat. Yes it is a blast to swim or sun from, but we also learned to use it as a way to assist physically challenged passengers. With two adults on either side of the passenger being received, we could very safely onboard folks – they step down instead of up.
Nine miles seemed like and 90.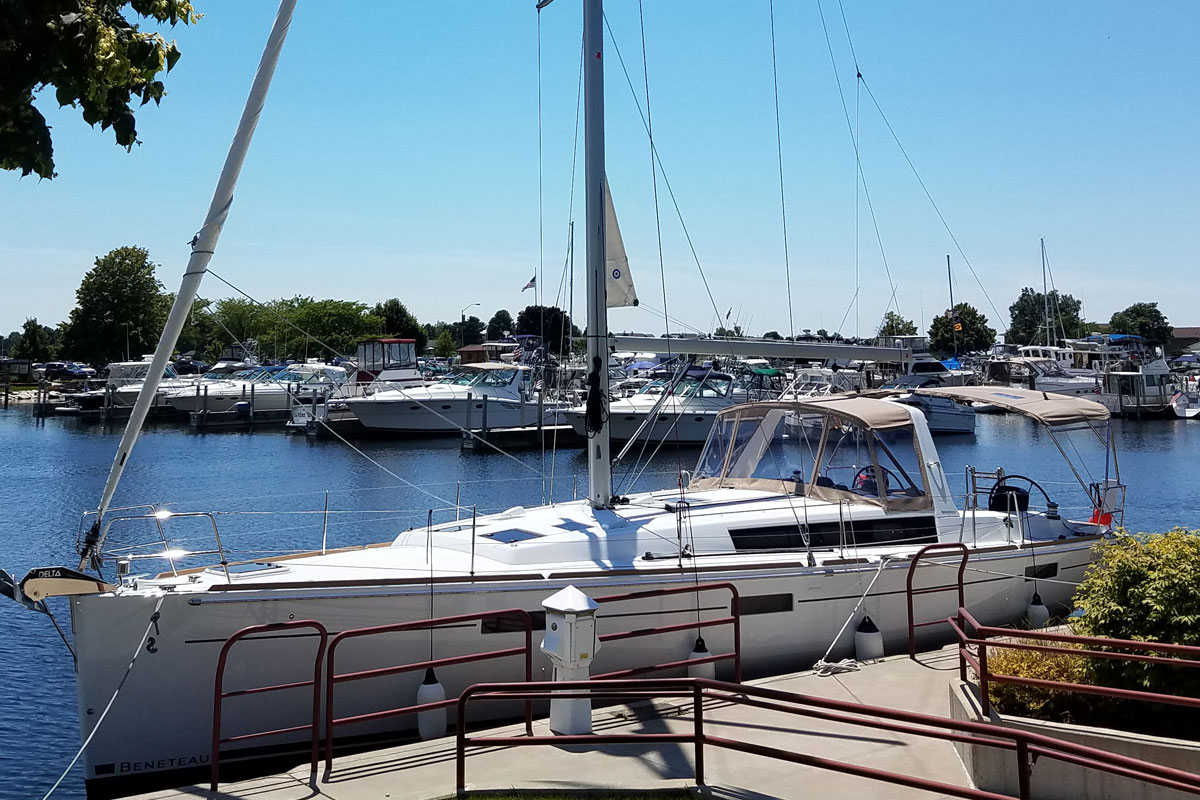 On three occasions we found ourselves difficult weather conditions – Fidèles never quivered.
On the evening of August 4th approximately 11:30pm, we rounded nine-mile light coming into Thunder Bay. The winds had been climbing into the 20's. We had already reefed both sails, which was an easy task using the motorized winches for the in-mast furler and headsail furler. Eventually we brought in all sails and motored as the last 9 nautical miles coming into Thunder Bay were getting dicey. We experienced sustained offshore winds of 35-40 knots and 6 – 8 ft seas. We were on full alert taking shifts driving, everyone in PFDs and harness. It took nearly 2.5 hours to navigate through the heavy waves on the bow in total darkness. Nine miles seemed like and 90, eventually we arrived to the safety of the Alpena Marina @2AM. Our decisions to prepare the boat, reef early, take shifts, were clearly good ones. Fidèles and crew held up great, with no issues or damage.
Aug. 11, 11 PM Lake Michigan. As we travelled past Grand Traverse Bay on our way toward the Manitou passage, we encountered a sudden increase in wind and heightened waves. The storm grew and brought with it numerous lightning strikes, moving East from across the lake. We experienced gusts into the 30's and 6 foot seas, but we were safe, warm under our canvas and foul weather gear. In this case, we were again against the current, so the waves were on the bow. It was very dark, but our radar and AIS gave us confidence of our position and helped us identify commercial vessels near us. We eventually made to the S. Manitou bay, where several other boats took refuge. Finding space in there ended up being our biggest challenge.
Sixteen hours later, near Ludington, another storm hit us. It came up very fast and surprised us. We had more too much sail up and became a little overpowered, so we reefed easily regaining control without ever going on deck. I remember Melissa commenting how nice it was the boat didn't surprise us with a knock-down. Fidèles pretty much stopped on her chineline about a 15 degree heal angle and started to round up a bit.